GET YOUR FISH ON !
Since it's origin, the inline spinner has proven itself as one of the best fish catching lures ever created . 
   Gordie's spinners are hand made, one at a time in New Hampshire , USA using unique patterns that catch fish !
Try one of these and you won't be fishing, you'll be catching !
Bragging Board
Matt C. from New Hampshire
Matt caught this nice bass using a Lunker Series spinner !
Pro Staff member Frank C. from New Hampshire
Frank was field testing some new glow in the dark patterns and landed this nice bass!
Andrew K, New Hampshire
Andrew with one of many caught on one our custom spinnerbaits
John G
John with a beautiful smallmouth caught on a 300 series Yellow Jacket spinner ( 309-56)
7 lb Lunker !
Andrew is back with a 7lb lunker caught on one of our lead free football jigs ( black and blue )
Sarah I.
Sarah with one of several trout caught on our 100 series spinners
Pete from Montana
Pete with a gorgeous Montana brown trout caught on the Silver Shadow bullet series spinner!
Jeff M.
Jeff with a big spring largemouth caught on the Sapphire football jig !
Bill F.
Bill with a doormat fluke caught on one of our custom fluke rigs!
Pete S
Pete with a largemouth caught on a dog tag spinnerbait.
Donna s
Donna with a nice largemouth caught on a dog tag spinnerbait.
Nathan
Nathan with a nice rainbow trout caught on the Killer Bee bullet series spinner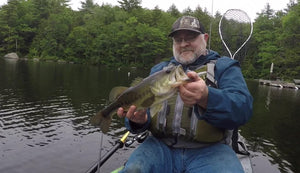 Gordie
Yours truly with one of many largemouth caught on the Sapphire football jig